Save money this summer: Travel Tips
Friday 23rd Jun, 2023
Unify's guide to saving money on your summer holiday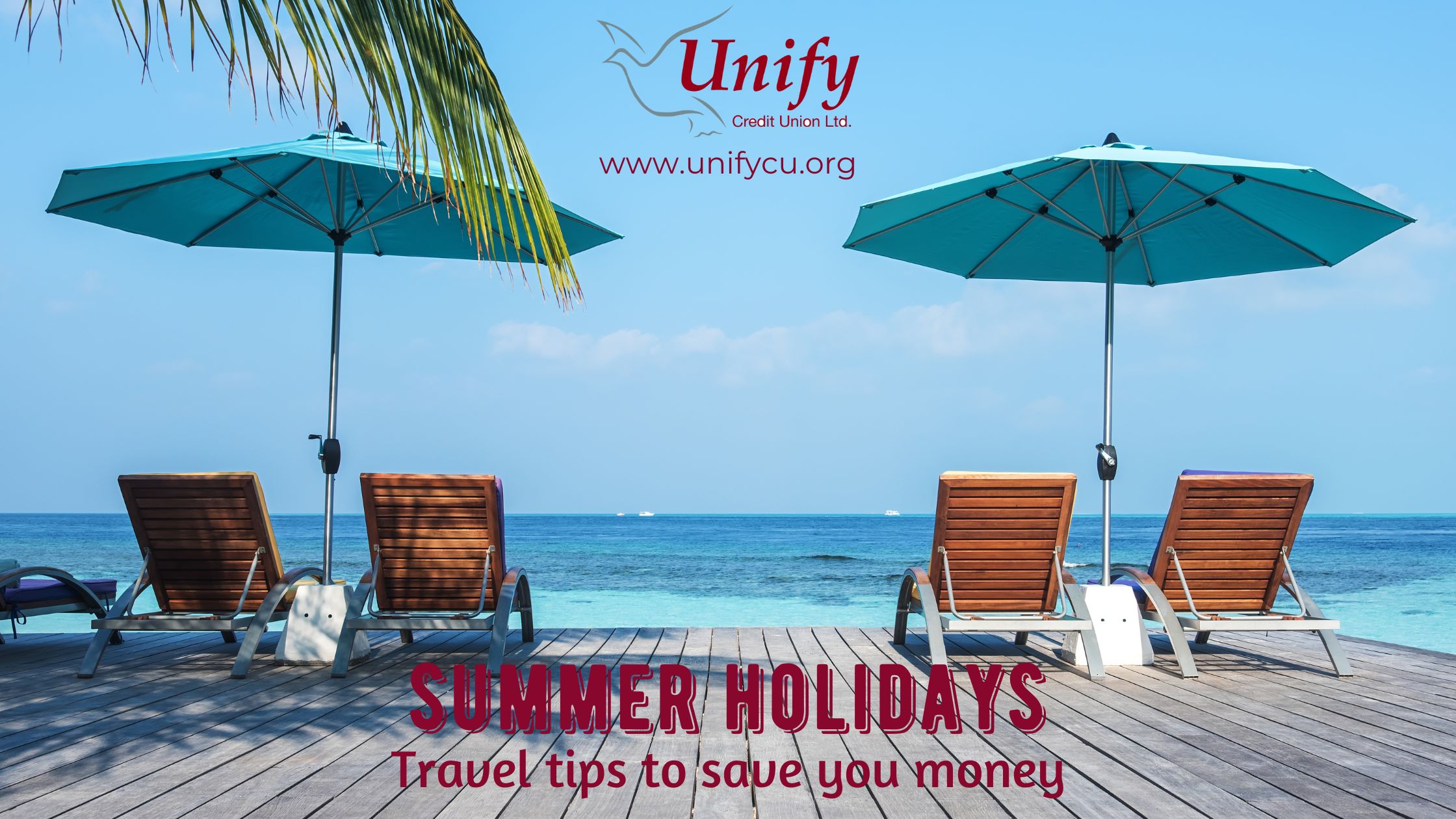 Some of our members borrow to help meet the costs of their annual holiday while others make use of the savings they've built up with Unify. Either way, we thought everyone could use some tips to help make those pounds stretch a little further this summer.
Pack light:
Packing light is a good way to save on baggage fees if you're flying, but there are a few other incentives.
With a light case or backpack, you're more agile. Maybe you can use buses and trains and save money on taxis to get around. Plus, packing light means you won't be tempted to pay for souvenirs —limited capacity in your suitcase will help deter your urges.
So how do you pack light? Bring clothes that you can wash easily in a sink. Look for items that dry quickly, and pick clothes that you can mix and match. Default to basic items that go with pretty much any outfit, so you don't need to cram four pairs of shoes into your bag.
Shop local:
Everyone likes exploring a strange new supermarket and finding all the products you can't get at home. Les Cadburys Fingres! Stocking up can help you save money, as you'll be less tempted to buy overpriced snacks from the hotel cafe just because you were hungry.
Pack snacks:
Don't forget that when you're travelling or on a day trip you're still going to need to eat. You don't want to end up with grumpy kids demanding food when your only option is the nearest service station.
Embrace free activities:
Discover free attractions, parks, and events at your destination. Museums often have specific free entry days, and cities frequently offer free walking tours. Check local websites, social media, or ask your accommodation provider for recommendations.
Stay outside city centres:
It's usually the case that city centre prices are higher than in the surrounding areas. So if you're looking for more budget friendly digs, start your search there. Check online for public transport links or bike rentals that will make it simple to reach the main attractions in the city itself.
Book early, and compare prices:
Flights and accommodation often increase in price the closer you get to the time of departure or stay. While you may find a last-minute deal here or there if space hasn't been sold, this can't be depended on. Price comparison sites and apps can help you find the best deals on flights, accommodation and car rentals.
Tell your mobile company you're going abroad:
They'll give you options on the cheapest way to use your phone abroad, especially if you're travelling outside the EU. If you're worried about the cost of accidental downloads, keep your phone in 'airplane mode' throughout your holiday or turn off data roaming in your device settings.
Buy your travel money in advance:
Buying travel money at the airport can be much more expensive than getting it in advance. Even if you buy everything via debit card, your bank exchange rate for foreign transactions can be high, look into a pre-loaded card with your chosen currency. And if you buy at a time when the exchange rate is favourable, you can lock in that saving.
Buy travel insurance when you book your holiday:
It's not a cost-saver upfront, but if anything goes wrong and your holiday gets cancelled or you're unable to travel you're covered by the insurance. Even if you book a year in advance get your insurance right away to protect you from anything that might occur over before the trip comes.
Start saving towards your next holiday with your Unify savings account, or use one of our affordable loans and you can save for the trip after that while you repay.
Share This Story