Unify's Locations
Here for the people of Wigan, Leigh, Chorley, South Ribble, Warrington and Skelmersdale
Membership of Unify Credit Union is free and available to anyone who lives or works in Wigan, Leigh, Chorley, South Ribble, Warrington or Skelmersdale.
If you are not sure whether you qualify for membership please telephone 01942 245656.
For further clarification on the area we service, please see our common bond map. If you do not live or work in this area please visit www.findyourcreditunion.co.uk to find your local credit union.
You can join and access our services online as well as in-branch. Join online today by clicking here.
WARRINGTON BRANCH
Warrington Foodbank Information Centre (Near Primark)
Golden Square Shopping Centre
Warrington
WA1 1QE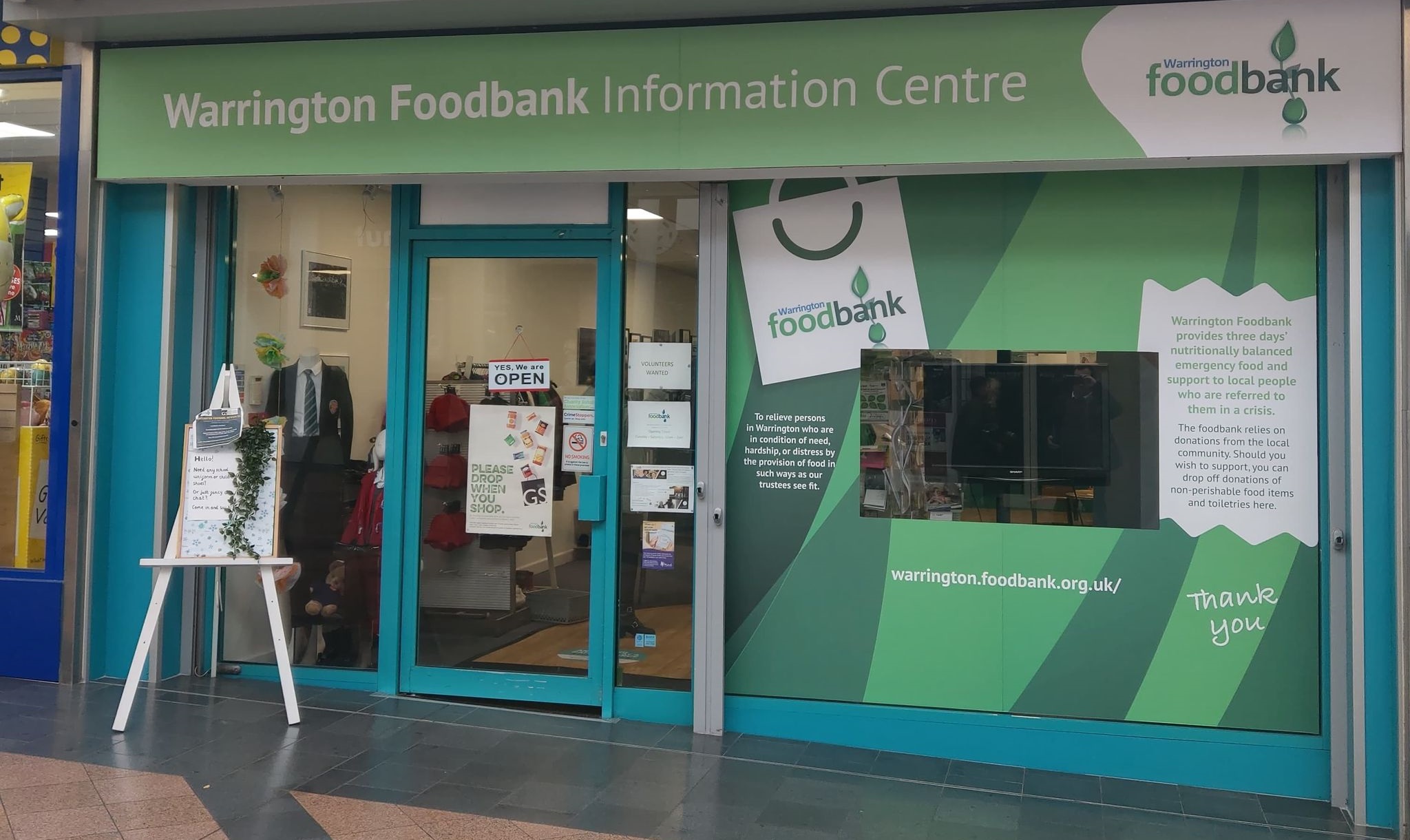 Opening hours:
Tuesday and Thursday: 10am to 2pm
Telephone:
01942 245656
Warrington members can also access their account at one of our local collection points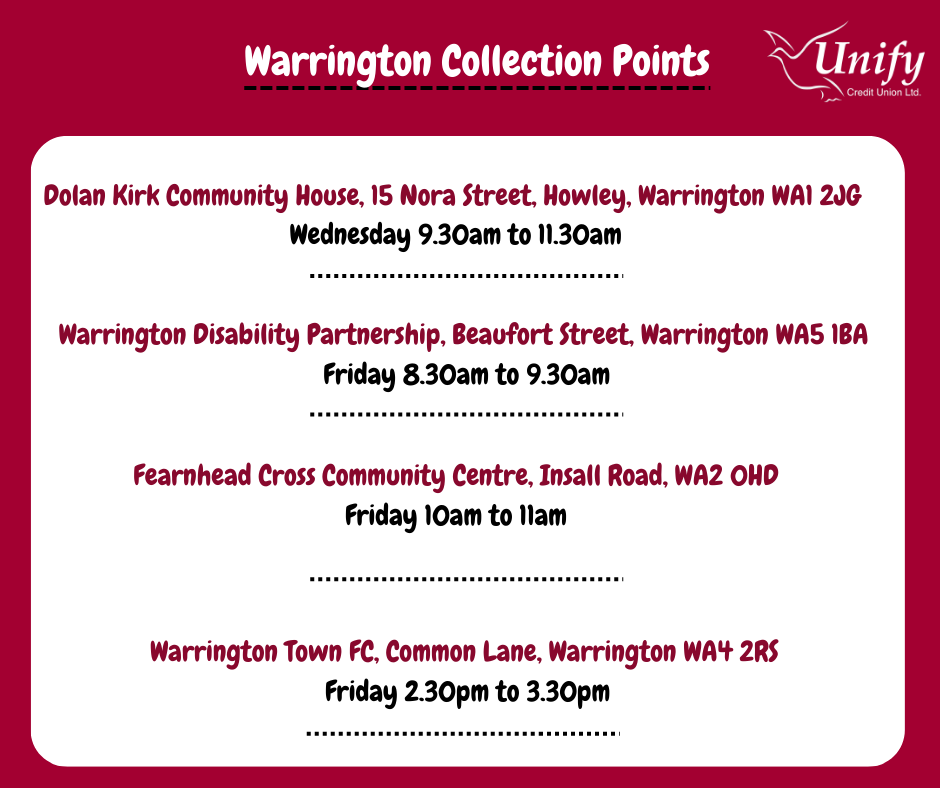 Get updates from our Warrington Facebook Page: https://www.facebook.com/UnifyWarrington
WIGAN BRANCH
21 Crompton Street, Wigan, WN1 1BN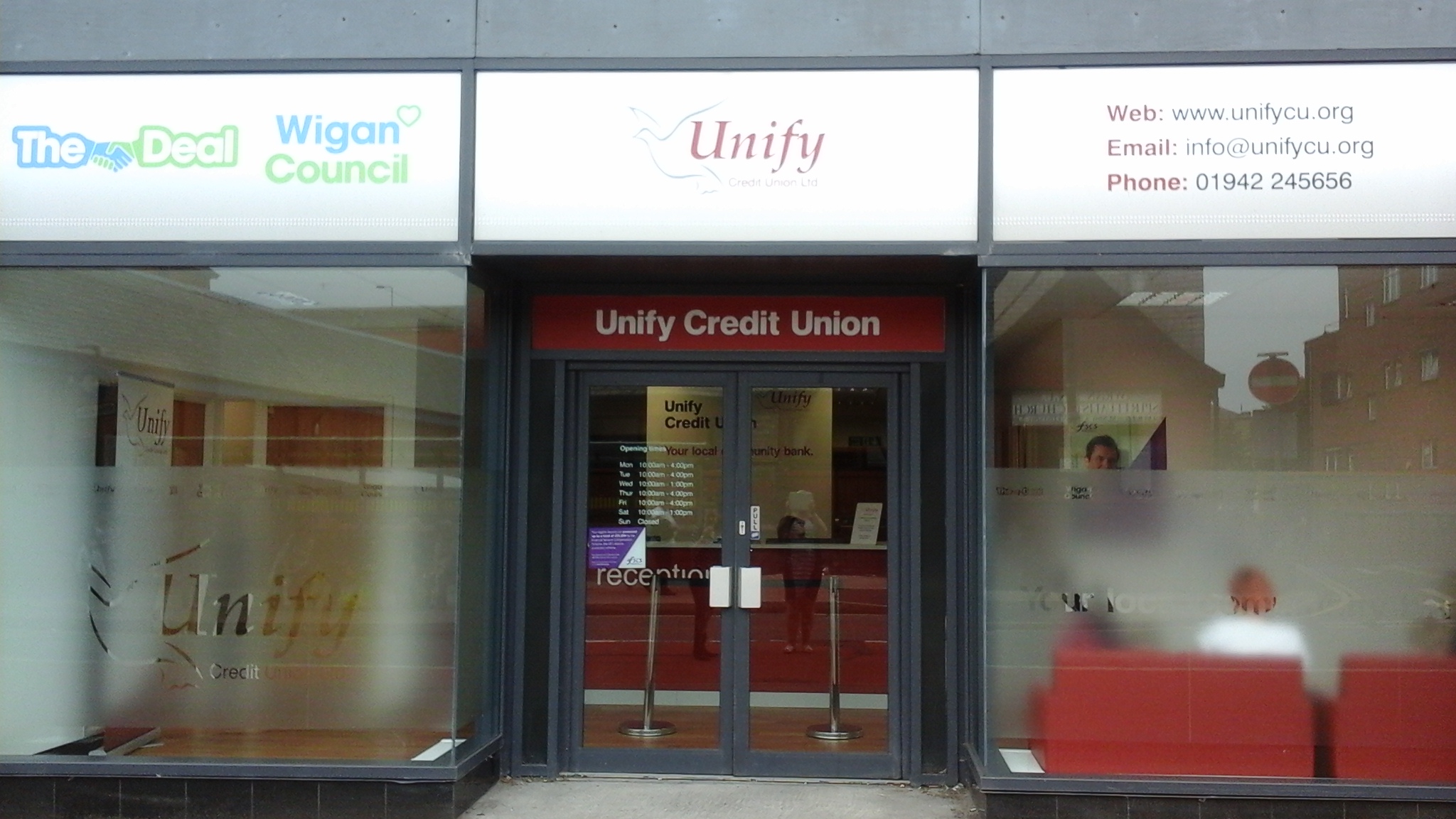 Opening hours:

Mon, Tues, Thurs and Fri:
10am to 3pm

Wed 10am to 1pm

Sat:
10am to 12 noon

Telephone:

01942 245656
Get updates from our Wigan Facebook Page: https://www.facebook.com/UnifyWigan/

LEIGH BRANCH
Our Bradshawgate branch is closed for rennovations but you can find us at the Turnpike starting 30/8/23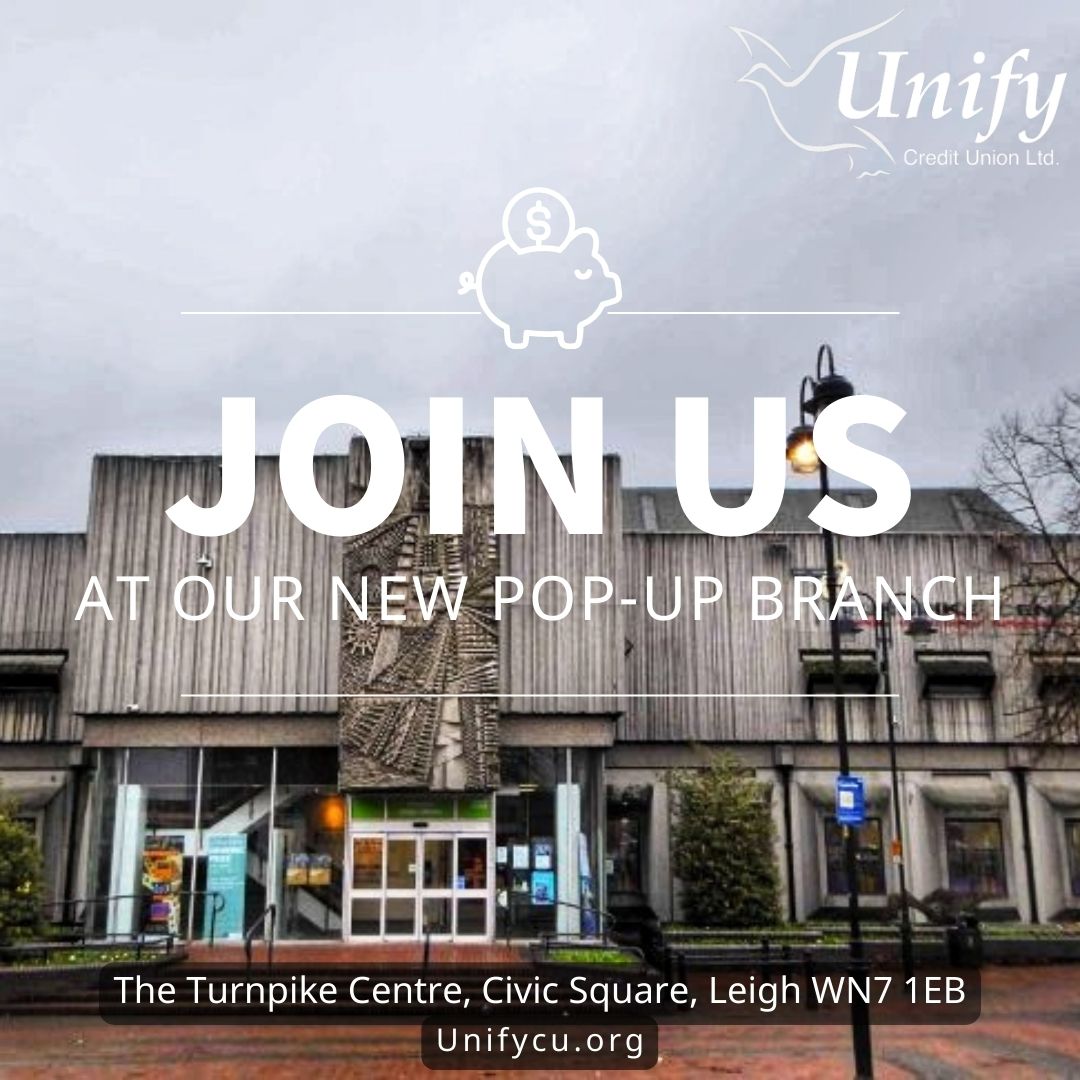 Turnpike pop-up opening hours:

Mon, Tues, Thurs and Fri:
10am to 4pm
(Closed for lunch 12-12:30)

Wed 10am to 1pm

Telephone:

01942 245656
Get updates from our Leigh Facebook Page: https://www.facebook.com/UnifyLeigh/
CHORLEY BRANCH
29 Market Street, Chorley, PR7 2SY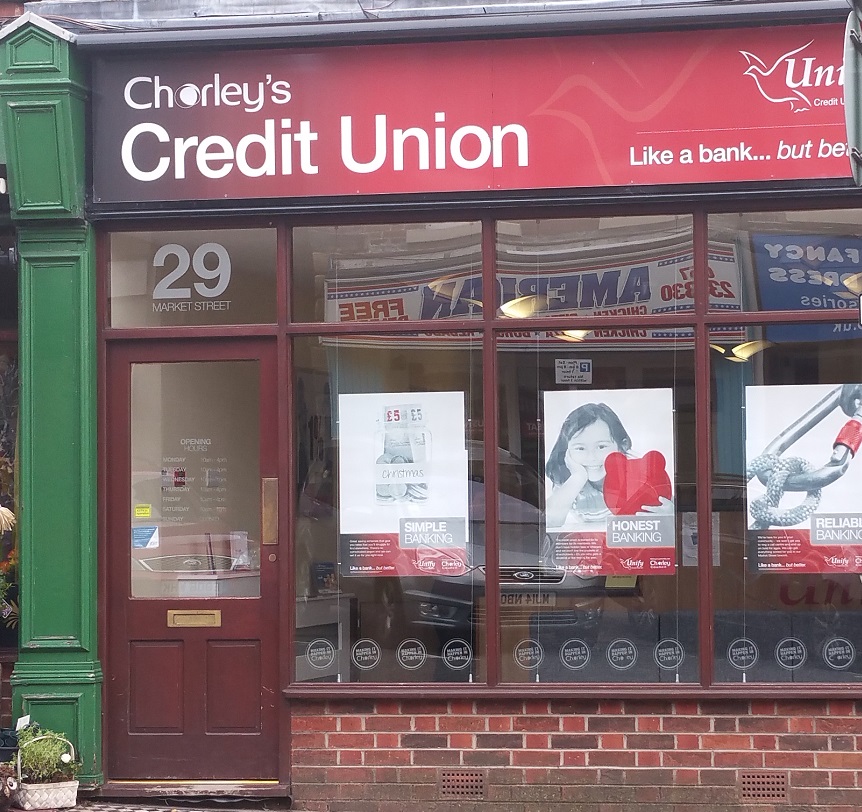 Opening hours:

Mon, Tues, Thurs and Fri:
10am to 3pm

Wed 10am to 1pm

Telephone:

01942 245656
Get updates from our Chorley Facebook Page: https://www.facebook.com/UnifyChorley/
LEYLAND BRANCH
78 Towngate, Leyland, PR25 2LR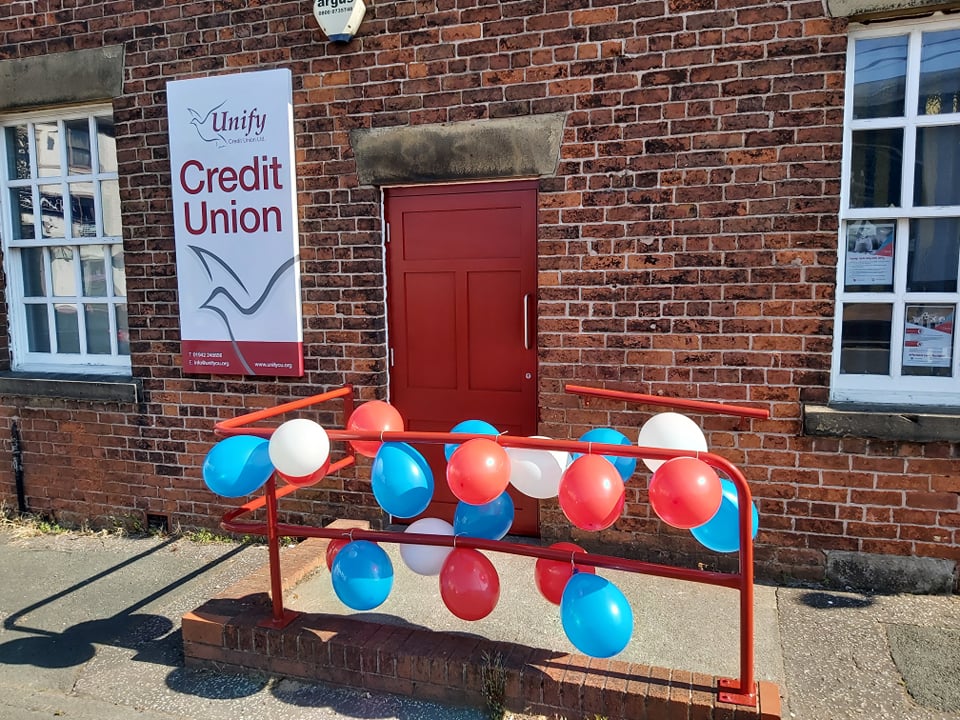 Opening hours:
Mon, Tues, Thurs and Fri:
10am to 3pm
CLOSED FOR LUNCH FROM 12.30PM TO 1PM
Wed 10am to 1pm
Telephone:
01942 245656
Get updates from our South Ribble Facebook Page: https://www.facebook.com/UnifySouthRibble/