Five things you should know from our AGM
Sunday 20th Feb, 2022
Missed our AGM? Not to worry: here's a round-up of the five things you need to know as a Unify member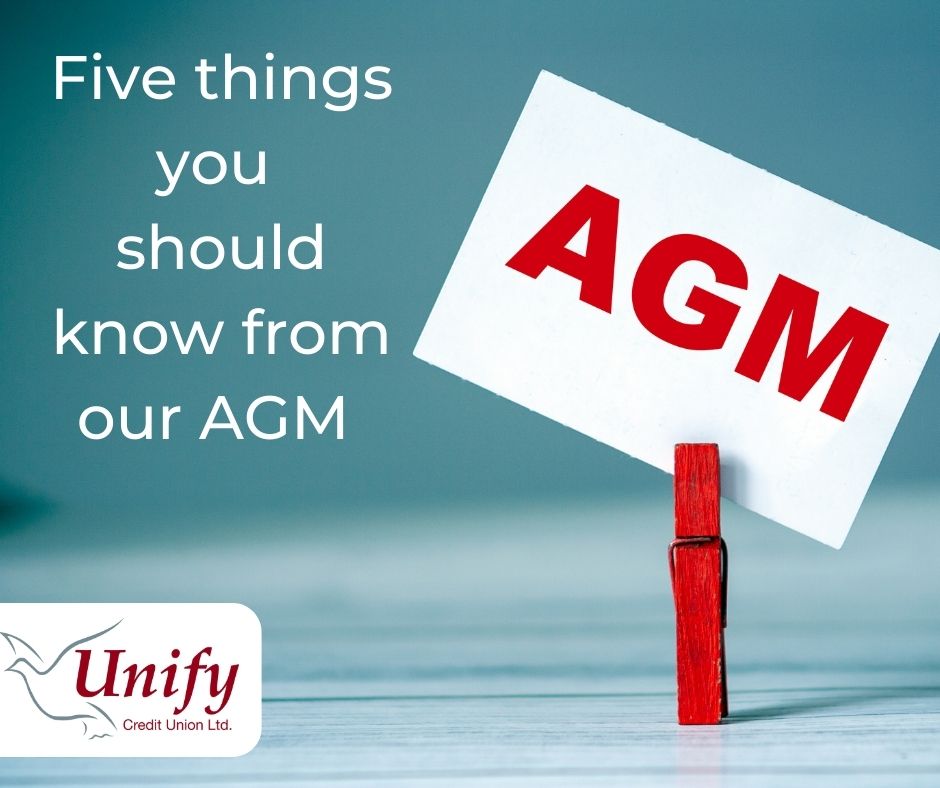 Five things you need to know about our 2022 Annual General Meeting (AGM)
Our Annual General Meeting is a place for you to have your say and hear key updates about your credit union. Thanks to those members who joined us on 15th February. If you missed it, don't worry - we've summed up the key points every member should know:
1. Members voted to agree a dividend of 0.5%, up from the 0.25% of last year. This 'dividend' is a share of the profit that we make, which is paid to our members each year. This has been credited to qualifying members accounts and you should log into your online account to check your balance.
2. The increase in dividend reflects the busy year we've had supporting our members:
o We have helped over 5000 families across our common bond
o Our members' savings have grown to £9.23 million
o We have welcomed more than 800 new members
o We have provided more than 6000 low-cost loans totalling £4.5 million
3. Despite it being a difficult year due to COVID-19, Unify Credit Union has been able to achieve its financial goals and also grow: we have expanded our common bond to include South Ribble and Warrington to be able to offer our savings and loans to people who live or work in these areas and merged with Warrington Credit Union
4. The following members of the Board were elected to the board:
o Barry Lyon (re-election)
o Audrey Kenfack
o Greg Knight
o Pat Leach
5. 2022 will be a year of challenges for individuals as well as organisations such as Unify. We believe that we have the staff, board members, volunteers, partners, and members to ensure we can rise to those challenges and indeed find and create opportunities to deliver services and products that are so much needed. Our focus in 2022 will be:
o helping members with current economic challenges, inflation, and rising energy costs
o protecting members' savings, and loan affordability
o getting the message of credit unions out to a wider audience
Thank you to all our Unify members who have stuck by us. We will continue to help members save to borrow because your financial wellbeing is key to our success!
If you would like a copy of the Annual Report please email info@unifycu.org and provide your member number and name.
Share This Story