Looking for a new challenge in 2021? Make a difference and share your skills by joining the Unify Credit Union board!
Friday 05th Feb, 2021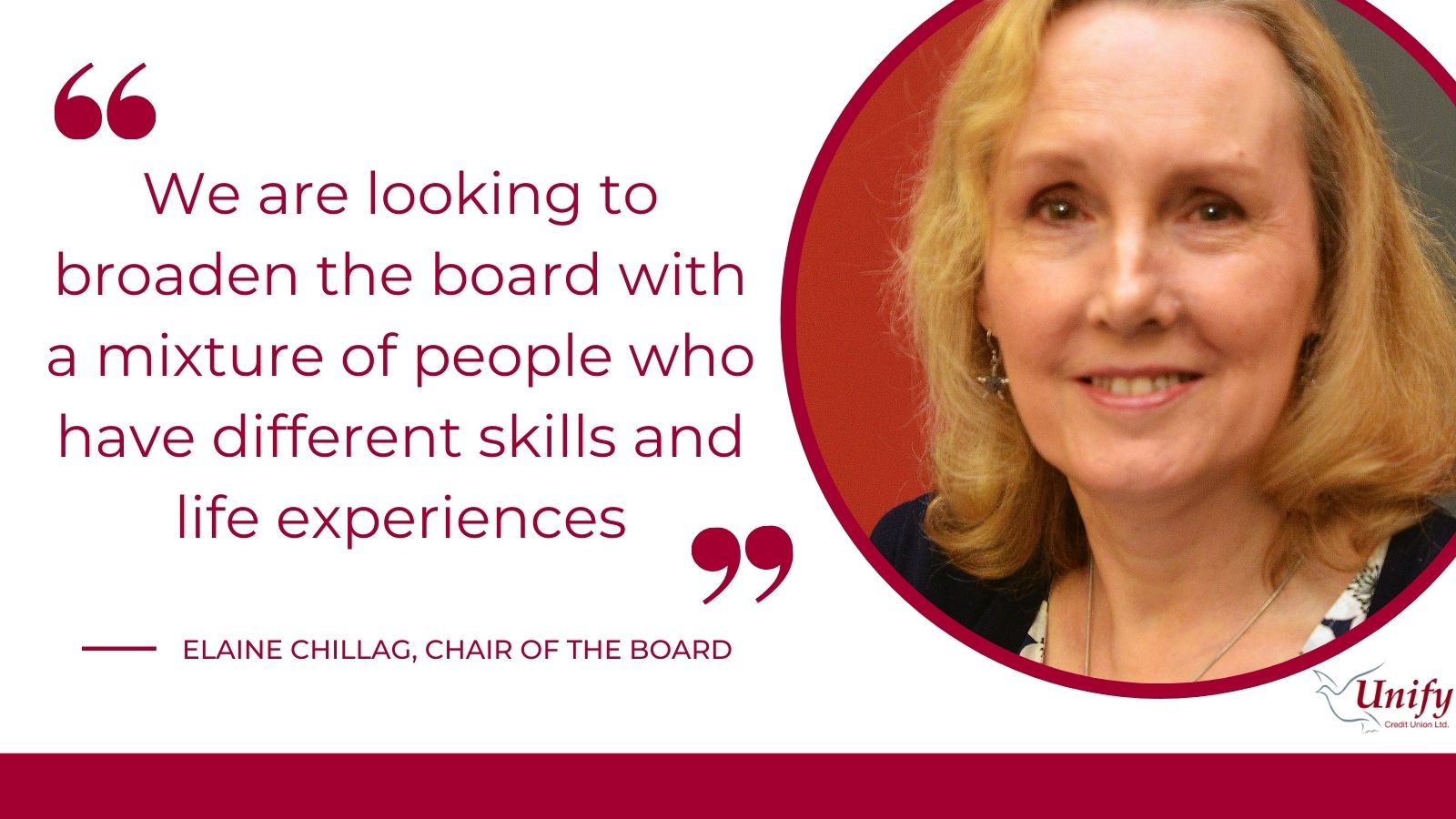 We are looking to recruit new directors, ideally with experience in IT, legal services and marketing, to join our team of volunteers who are passionate about people from Wigan, Leigh, Chorley and Skelmersdale having greater financial wellbeing and access to easy saving and affordable loans.
Becoming a board member can be a rewarding role, which provides plenty of opportunities for you to use your skills and experiences to make a difference to your community.
But don't take our word for it: Unify board members Barry, Elaine and Julia share why they took on the voluntary position:
Barry Lyon, Board Secretary, said: "You're making a difference every single day by helping out. I've seen the damage that debt and misinformation can do to people. Credit Unions are really important and big challenges lie ahead, but we are all part of the solution and not part of the problem.
"We need people with commitment, drive and responsibility, but also those who really want to help develop their community and enrich others' lives. It is a selfless task, but it's really rewarding because you know you are doing good."
Elaine Chillag, Chair of the Board, previously worked as a debt adviser and now uses her knowledge and experience at Unify. Elaine said: "I offer my services to make sure that local people are able to borrow money in the right way and that they are supported if they have any problems.
"We are looking to broaden the board with a mixture of people who have different skills and life experiences."
Treasurer Julia Wiechers added: "I wanted to work closely with the community because I hadn't really had the chance to do that before.
"It's nice to take yourself out of all your normal work and home concerns and think about something different sometimes. I think that it brings a really useful perspective- to get involved in something that is outside your norm.
"It's really lovely to work with others who will come at things with a different angle to what I am used to and it feels good to be part of a team."
We're looking to recruit people from a range of backgrounds and experiences - so if you'd like to join Elaine, Barry and Julia on our board, please email info@unifycu.org to express your interest.
Share This Story