Unify Credit Union announces date of the 2020 AGM
Wednesday 22nd Jan, 2020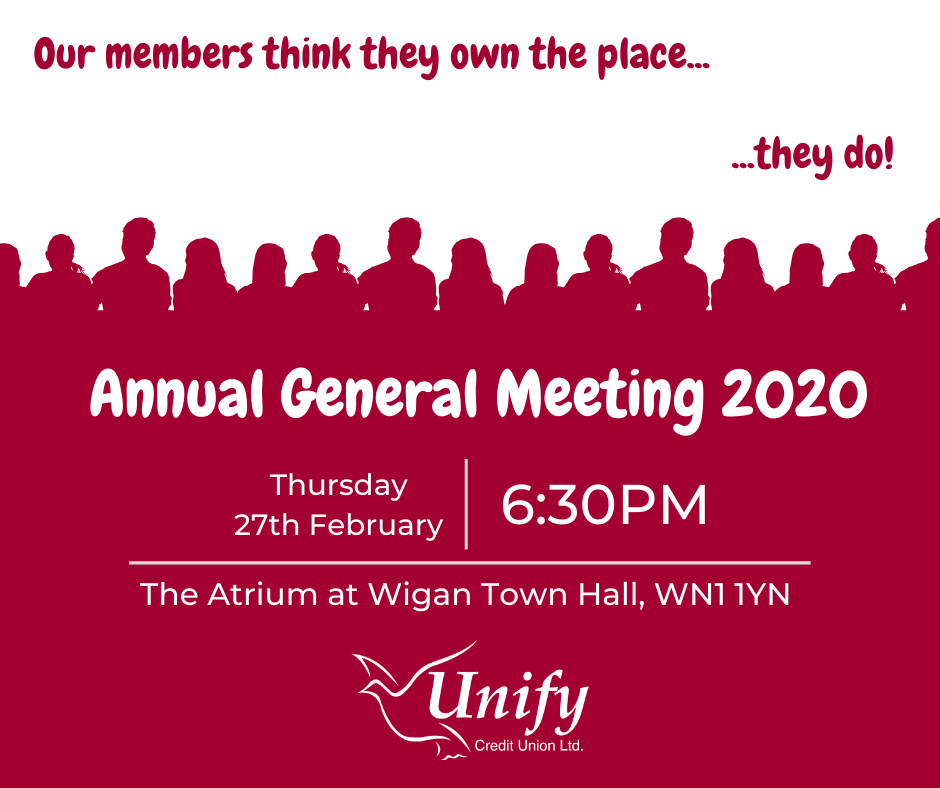 All members are invited to attend this year's Annual General Meeting (AGM) on Thursday 27th February at The Atrium in Wigan Town Hall at 6:30 PM. The AGM will include:

PRESENTATION OF FINANCIAL ACCOUNTS
ANNOUNCEMENT OF DIVIDEND
ELECTION OF MANAGEMENT BOARD
Please confirm your attendance by emailing your membership number, name and address to info@unifycu.org by the 20th February.
What is a Credit Union AGM?
Unify is a financial co-operative that exists purely for the benefit of our members. We don't have external shareholders that profit from what we do; every active member of the credit union is a shareholder so the people who profit are our members. The decisions we make, are made in order to meet the needs of our members and our community.
Our Annual General Meeting is a place for you to see how we are doing as a business and an opportunity for you to be involved in your Credit Union.
Do I get Interest on my Savings?
Unlike a bank account, when you join Unify, you join as a member, rather than a customer. This means that once we have paid for our bills and built up our reserves, every active member will get a share of our profits. This share of profits is called a 'dividend'.
To qualify for the dividend you must have a minimum of £1 in your savings at the time of the AGM. The dividend is calculated on the money you held in your account during the previous financial year (1st October 2018 – 30th September 2019)
Why should I attend Unify's Annual General Meeting?
To stay up to date with what and how we are doing. You trust us with your savings, and we lend this money to the people in our community. This is the best chance to find out what we have done in our community over the last year, and how well we are doing as a business and the ways we are going to progress in the future.


This is your opportunity to ask questions to our board about the company and raise any concerns or express satisfaction.


The proposed dividend will be announced and a vote is taken to agree upon the figure. You have the right to vote for the suggested figure or you can request that the figure be lowered. You cannot ask for the figure to be increased.


After the AGM, refreshments and some hot food will be provided and we encourage members to stay and take part in a fun quiz and speak with our staff, volunteers, supervisors and board members.

How do I get to the event?


Location
This year the event is being held at The Atrium within Wigan Town Hall, please click here to view the location on Google Maps. Please use the entrance on Hewlett Street.
Public Transport
The town hall is just 0.2 miles on foot from Wigan Bus Station, Wigan Wallgate and Wigan North Western Train Stations. To plan your journey please see the Transport for Greater Manchester's Website for timetables for both buses and trains.
Parking
There is street parking available on Library Street and some other surrounding streets near the Town Hall. Parking restrictions are in place there between 8 AM - 6 PM. This means that you will be able to park there after 6 PM but please note that spaces may be limited. There are disabled spaces also available on Library Street.

Alternative parking
There are a number of Car Parks in Wigan Town Centre, below is a map of the car parks owned by Wigan Council. For a list of the parking tariffs please click here.
Share This Story