Get more for your money and save yourself some interest at Unify!
Friday 18th Oct, 2019
Unify Credit Union committed to converting those who get items from Rent-To-Own companies like Perfect Homes or Bright House to instead try an affordable loan from Unify!
We recently looked at how much buying a fridge would cost in total from a local Rent to Own Company on our high-street. Our members were shocked to see how much they could save by borrowing from Unify instead and we were glad to see and hear people sharing this information with others. (Read more about that article here)
With Christmas coming up soon, many parents may be dreading the ever increasing cost of Christmas as their children get older and ask for more expensive gifts. A popular gift for many children will be a games console such as an Xbox ONE or the PlayStation 4. Unfortunately for parents these don't come cheap and many parents may be tempted to go to a Rent-To-Own company in order to get the item now... whilst repaying more than they need to in expensive repayments.
We have made a price comparison in order to show parents that there is a more affordable option for them… Unify!

We found at a Rent-To-Own company advertising a Xbox ONE S games console for sale, the item cost was £308.89. The repayments are £5.85 a week, which to many, would seem like an affordable amount. However the term of paying is back is over 104 weeks, that's 2 years! Their interest was advertised at a fixed rate of 48.7% (Representative 119.9% APR). The total you would pay for the XBOX over 2 years is £608.40!! That is almost double the cost of the item… we couldn't believe it!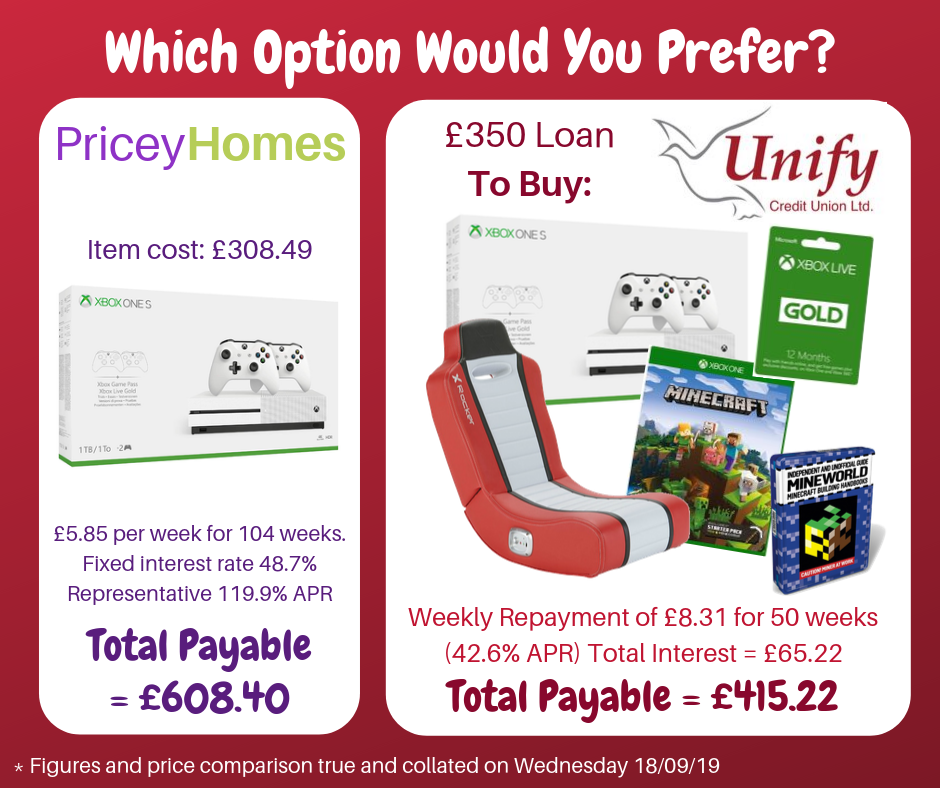 We then had a look at how much this item would cost at a different retailer, what we found was quite surprising. At a well-known retailer, the XBOX ONE S has a price tag of £218.99, a lot less that the base cost of the same Rent-To-Own item.
We also had a look at what you could get with £350, if you decided to get a Loan from Unify instead of an item with "Pricey Homes"!
You could buy:
XBOX ONE S with 2 Controllers (£218.99), Minecraft Game (24.99), Junior Sized Gaming Chair (£59.99), Minecraft Building Handbooks/Guides (£3.99) and a 12 Month Subscription to XBOX LIVE (£39.99). Total cost £347.95.
If someone came to Unify for a £350.00 loan, our repayments are over a reasonable time scale of 50 weeks, at a repayment of £8.31 each week. The total interest paid would be just £65.22 meaning you would pay back £415.22.
At Unify Credit Union we always check to see if a loan would be affordable for you! We don't do "Representative APR's" which can often mislead people. The price you see with us is the price you get! There are no early repayment charges and if you want to pay your loan off sooner, then that is fine too! Come to your local credit union and discover a more affordable way to borrow!
Find out more about Unify Credit Union at www.unifycu.org
Not a member? Not a Problem! To apply for a Family or Starter Loan email your name, date of birth, address, telephone number, reason for loan and amount required and we will get back to you as soon as possible: please do not complete the online membership application until you have spoken to us over the phone or email about your loan request. Please send your email to info@unifycu.org .
**Please note the facts and figures above were collated and correct on Wednesday 18/09/19**
Unify Credit Union Loan details:
Loan £350
50 weekly repayments of £8.31
APR 42.60%
Total Payable £415.22
Rent to Buy XBOX ONE details:
Item Price/Amount of Credit: £308.89
Weekly Repayments £5.85 (104 weeks)
Annual Fixed Interest 48.7% p.a.
(Representative 119.9% APR)
Total Payable £608.40
Items/prices used in the comparison were from retailers Argos and Smyths Toys. **Prices detailed above were in stock and correct on 18/09/19.**
Share This Story